In my part of the world knitting is often treated as a lost art. However, knitted items are still on sale in many stores today which means that there is still a demand for it.
The items I see however are often not nearly as beautiful as those I remember growing up. I attribute this to
Growing up in an artsy family knitting is one of the many skills that I learned. Even though I have never tried to make money this way I have certainly seen several members of my family do it.
If you are the type that likes to knit for a hubby why not turn that into a side hustle and make money from it instead?
Note Well
I typically do not focus on ideas that are limited to persons in the more developed world. This is because I do not live in the developed world.
I prefer to focus on ideas that persons can use regardless of where you are located in the world.
Because laws differ from country to country you do need to check on the legalities of all work at home ideas within your own country.
Disclaimer: This post may contain affiliate links. This mean that if you click on a link in this post and buy an item I may earn a commission. See full disclosure here.
Sell Your Knitting
Wholesaling Your Work
In my part of the world it is quite hot. As such we typically do not wear knitted clothes. We do however knit or buy knitted decorative items for our homes.
Most of these are sold at Christmas time since this is the time we put the most effort into decorating our homes.
There are several ways you can go about selling your knitting. If your knitted items are garments then you may approach stores that carry clothes and offer to become a regular supplier.
If your knitting are of a different type I'd suggest approaching stores that sell those items and do the same.
If you do not create enough items in the short term to manage wholesale you may consider retailing your items or joining other like-minded people to start a business that supply local stores.
One of the best things about this is the fact that you will be able to move your items quickly and easily.
Retailing Your Creations
Retail can sometimes be harder if your items are not considered a basic necessity. In today's world however this can be done quite easily by advertising your creations on the social media platforms available to you such as Instagram, Facebook and WhatsApp.
In this way your contacts as well as their contacts will know what you have to sell and how to contact you to access your product.
You may also create give-aways and leave them at your local supermarket for customers in their area. You may leave a simple short newsletter with your items. In this way you will be able to let customers know what your business have to offer as well as how they may contact you or access these items.
Pricing Your Items
One of the things I have found from interacting with persons who sell their art is that they often under price their items.
In pricing your items there are several things that you need to take into account.
When you start a business the first thing you need to decide on is the value of your time. Are you prepared to work for $5, $10 or $15 an hour?
Once that is decided you need to keep track of the number of hours you take to complete each item. So if you labor cost $5 per hour and you took 10 hours to make that item then your labor on that item is $50. This money is what you pay yourself or anyone else that is working for you.
Always be careful to note the materials that go into your creations. The cost of your raw materials MUST be catered for in your pricing. There are some things that we tend to overlook when doing this. This include cost for utilities.
If you used electricity then this cost must also be factored in. You can simple come up with an average or divide your monthly bill among the items created that month.
After you would have come up with these two costs you also need to add your profit. Your labor cost is not your profit.
A simple thing to do is to either add on a flat rate per item or use a percentage of the cost of creating the item to decide on the amount you wish to add on for your profit.
Caution
If you are in business and do not seek to be adequately compensated for your items, you will not be in business long. When this happens, my old head teacher used to say you are doing 'busyness' not business.
This is because what you are doing keeps you occupied but is not bringing in a profit. Therefore, while it keeps you busy it cannot be considered a business because the main goal of any business to make money.
Teach Knitting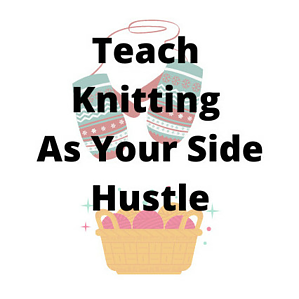 You could potentially start a knitting class in your community to promote this art.
When I was growing up in a rural farming community my mother had a craft class of this nature. She targeted house wives who were looking to improve their homes while saving money.
Knitting in my country is pretty expensive but for women who take pride in their homes knitted chair backs and center pieces for tables were regular must have items.
As such it was more economical in the long run to make them than to buy them.
You too can start a knitting class to help persons within your community to learn this skill.
Here you must decide how much your skill is worth.
Teach Knitting On The Internet
You may also teach knitting online. You may do this with the use of a YouTube Channel and monetize it. If you are not sure how to start a YouTube Channel be sure to also read How To Make YouTube Videos On Your Phone In 10 Easy Steps.
You may also start your own knitting blog and monetize that. Check out Knitting For Profit as an example of what can be done.
You may also try your hand at creating written or video courses. For this you may explore sites such Thinkific, Teachable or Udemy.
Create A Pattern Book
Growing up my mother always had pattern books for both dressmaking and knitting. The thing is people looking to create items for sale are always looking for new ideas.
If you have been knitting for years and consider yourself a pr at it you may consider creating pattern books and selling them on platforms such as amazon or even on your own blog.
What I love about books is that once they are written, they are a great passive income stream that pay you back for years. Of course, you will need to invest your time in making them excellent during the creation phase.
You will also want to spend time ensure they are marketed well.
Conclusion
Knitting is not a dead art. Knitted items are still in demand today and you can turn your hobby into a very profitable side hustle by using the ideas laid out in this post.
If you have any questions or comments about starting your knitting business be sure to leave them in the comment section below.
Before You Go
If you would like to know learn how I started my affiliate marketing business be sure to read my story here. If you believe you have what it takes to be an affiliate marketer and wish to check out the school where I study affiliate marketing just click here.
The first ten courses are free. No credit card required. What are you waiting for? Come on in. I will be there to guide you throughout your journey.
Candy Benn