Now as single parents we are always looking for ways to save money or earn more. Farming has long been a way to survive in poorer nations.
One of the best ways to save money or earn more is with a kitchen garden. Gardening means that you will be able to grow your own food as well as sell your produce and earn.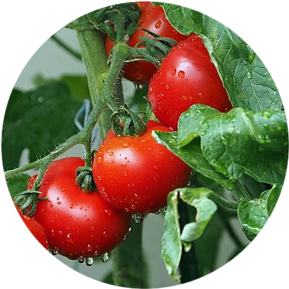 As a farm girl this particular side hustle is very close to my heart.
My Grandfather who happened to be a farmer always said, "a farmer cannot starve". If you are farming the right crops this could prove true as it did for us.
I grew up in the Pomeroon, an area where farming was the main way of life. My parents, two teachers had five children and were often opening their doors to more.
My siblings and I never missed a meal. We ate what we produce.
An allowance was unheard of but we never lacked snacks either. We ate the fruits grown on the farm at snack time.
I can't think of a better or healthier way to live.
Disclaimer: This post may contain affiliate links. What this means is that if you click on these links and buy a product or service I earn a small commission at no extra cost to you. In this way I am able to maintain my website and provide information to you free of cost.
Table Of Contents
What Is A Kitchen Garden
Eat What You Produce And Increase Your Disposable Income
Sell Fruits And Vegetables
Sell Seeds
Sell Plants
Sell Your Knowledge
Conclusion
Before You Go
What Is A Kitchen Garden
According to Merriam Webster, a kitchen garden, "is a garden in which plants (such as vegetables or herbs) for use in the kitchen are cultivated."
A kitchen garden is a small garden, usually close to your kitchen area, where you grow food for your kitchen.
In more developed countries a kitchen garden may be indoors and involves growing plants in pots on your window sill or other parts of your kitchen.
Eat What You Produce And Increase Your Disposable Income
If you are struggling to make ends meet one of the best thing you can do is start a kitchen garden and eat what you produce.
Now you may think that is not a way to make money but I promise you it is.
Let's say you earn $1500 per month and you usually spend $200 on fruits and vegetables. If you plant your own fruits and vegetables you can quickly replace what you buy with what you produce.
Best of all you now have $200 in your pocket and unlike when you take on a second job this is not taxable.
Added Benefits Of Producing Your Own Food
In this way you can ensure that the food you eat is organic and therefore better for your health.
Gardening on a regular basis gets you out into the sunlight which is good for your health. The exercise will do your body good.
If you do this right you can guarantee that you and your children never go hungry again.
Growing organic foods is better for the environment
Sell Fruits And Vegetables
If you are producing enough fruits and vegetables you may consider selling your excess fruits and vegetables.
You may of course approach markets/stores within your community that sell fruits and vegetables to look into becoming one of their suppliers.
This allows you to create you own reliable business and have a steady earning.
The advantage of doing things this way is that you can complete selling what you produce within a few short minutes. You also have a ready source to relieve you of your produce.
However, you do earn less in the long run than is you sell directly to the end user. Additionally, your source of income can be cut off at anytime, your customer decide to take his business elsewhere.
Instead of selling your produce wholesale you have the option of targeting persons within your community and selling to them directly.
You may advertise with the use of flyers, take your produce to the farmers' market or word of mouth.
Sell Seeds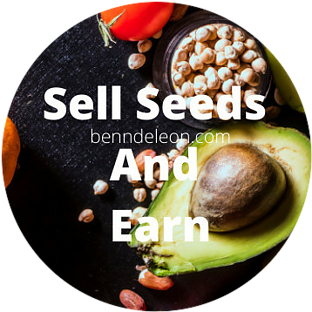 It is typical for gardeners to save the seeds from their garden. In this way they ensure that they will not need to buy any seeds in to future to ensure a continuation of their garden.
If you have excess seeds it is also possible to sell those seeds and earn an additional income this way.
In fact if you do not have enough fruits and vegetables to sell this may be something that would work well for you.
You may package and sell these seeds to others to generate another stream of income.
Sell Plants
Many people today prefer to buy and grow plants from seedlings rather than grow their own crops from scratch.
As such, if you are great at growing crops this may be a way to start your own passive income stream.
What is great about this is that you do not need a lot of space to grow seedlings. They tend to take up less space than more mature crops and takes less time to begin earning you money.
Sell Your Knowledge
There are many persons who wish to start an organic farm but do not know enough about how to do this. The course you write may provide answers for them.
You do this by teaching online courses through platforms such as skillshare, thinkific and teachable. Additionally, you may write online courses on this topic and publish on Udemy.
There is also the option of preparing your own gardening website so as to earn money from that.
If you are curious about how to earn money from a gardening website be sure to read Affiliate Marketing For Beginners and How To Start A Blog Or Website And Earn Money From It.
Personally I love the idea of writing online courses or blogs because these are great ways to earn passive income in the long term.
Conclusion
A gardening business is one of the best passive income stream I have ever been a part of. You may use it to feed your family and increase your disposable income or sell your produce, seeds   
or seedlings.
Which ever you choose to do, this is an easy startup requiring a low financial input but which can net a very high output.
This of course may vary from country to country since the developed world has less available land space to make this happen.
In such an instant you still have options, since you may remedy this by planting on your window sills and available patio space.
You may explore some new ideas for gardening that would apply to those with limited land space.
Before You Go
If you have would like to know how started my online business and create a passive income be sure to read about my journey here.
If you wish to join the online school where I learned how to become an affiliate marketer and earn a six figure income be sure to click here and come on in.
The first ten courses are free, no credit card required. What are you waiting for? Come on in. I will be there to guide you along the way.
Candy Benn