If you plan to get into video creation for YouTube, or Instagram, or as an addition for your site there is no need to invest in expensive equipment when getting started. Here is how to create YouTube videos on your phone in 10 easy steps.
This is a follow-up to my article, Start a YouTube Channel And Earn Money From It so be sure to check that out.
Make YouTube Videos On Your Phone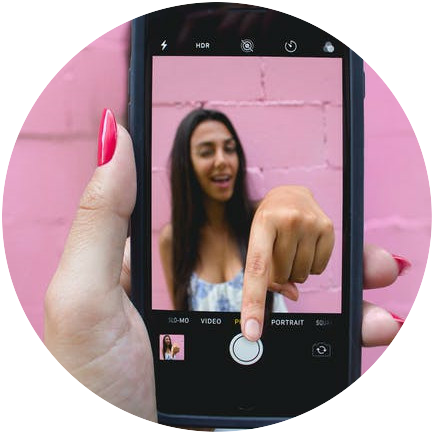 When making a video for public viewership you will want to go for the best possible quality.
You will want to choose the best camera on your phone. Typically, this is usually the rear camera. As such you may need help to make your recording.
I have actually used a mirror to help with taking pictures this way. You may explore this option if you are making your video without an extra pair of hands.
Additionally, you will need to ensure your battery is fully charged before you begin to record. Not only will a dead battery interrupt the process but if you are unaware of it, it can cause you to lose your handwork as well.
Also recording a video can actually take a lot of battery so ensure it is fully charged.
Here is the first thing you need to know if you are going to make YouTube videos on your phone.
Setting Video Resolution
1. The first thing you should do is adjust your video resolution to the highest quality possible.
To do this open your camera app -> go to settings -> Look for Video Resolution and click on it -> Choose the camera you wish to adjust, front or rear -> Click the selected camera -> Adjust the resolution to the highest settings. Ideally, this should be 1080p.
You are set.
Note Well
The above instructions may differ a bit depending on the phone you are using.
2. Composition
When making a YouTube video on your phone you will want to ensure that the subject is not too high or too low. Ideally, you will want the person's face or the object to appear in the center of the video with not too much space above.
Go into your phone settings and turn on the grid for your phone camera. When recording you will use this grid to center your subject.
3. Stabilize Your Camera
Always stabilize your phone during recording.
To do this I recommend using your phone in a fixed position on a stand or braced against a wall. You may even adjust your selfie stick in a lying position on a desk with your camera upwards.
Shaky hands are not always obvious during a shoot but will become obvious during playback.
4. Lighting
Lighting is extremely important when shooting a Video.
You should never have lighting at your back when creating a video. Whatever the light source you are using you will want to face the light. This will prevent shadows and darkened areas on your face.
5. Avoid Interruptions
Always put your phone on flight mode when recording a video in order to avoid interruptions. Calls or notifications during a recording will cause you to lose your work.
6. Be Cognizant of Your Choice of Vertical or Horizontal Setting When Recording
You should always shoot your video in landscape, not portrait. Additionally, if you do record your video in portrait it may be cropped when it is uploaded causing you to lose valuable information.
7. Clean Your Camera Lens
We may not always think of it but we handle our phones all day and even place our fingers over the lens. This leaves smudges and may in turn make our image blurry. So clean it.
8. Lock Settings
Once you have adjusted your camera settings, lock it in. This will ensure the settings are maintained throughout filming.
You can do this by simply tapping and holding the central point of your screen for about two seconds.
9. Background
While this has nothing to do with how you use your phone you will not want to overlook it.
Use a simple background. You want your audience to focus on you or your subject and not your background so keep it simple.
10. Look Directly into the camera
Lastly while recording always look directly into the camera and not at your phone screen. This way when the video is played you will appear to be making eye contact and therefore connect better with your audience.
This is extremely important when you choose to make YouTube videos with your phone. It separates the amateurs from the pros.
This unfortunately is one of the classic mistakes persons make when recording videos with their phones. The ability to actually see yourself on the screen can cause you to look there instead of where the actual camera is located, fooling you into believing you are looking into the camera.
When the video is played however this mistake becomes all too obvious.
Getting the Audio Right With Your YouTube Video
When making a video the audio is far more important than the visual. Unfortunately, the microphone on our phones tends to be unidirectional which means that it is not the best option for making recordings.
You should ensure that you close all doors and windows and find a quiet area to do your recording.
Personally, I believe that investing in a good external microphone for your phone is the ideal thing. Your audio must be clean and clear at all times. Even a mediocre camera can work if the audio is up to standard.
There are several really great options when sourcing an external microphone for your phone.
Conclusion
If you are now getting your YouTube channel up and money is an issue there is no need to invest in very expensive equipment. Start with the equipment you already have on hand and opt to invest in a good microphone since clean audio is the most important thing in creating a video.
Additionally, learn to adjust your phone camera to get the best out of it.
Before You Go
Do you have questions about how to make YouTube videos on your phone? Be sure to leave your question or comment in the comment section below and I will get back to you in twenty-four hours.
Be sure to check out my post on how to start an online business with a small capital or go here to see where I learn't to build a website and earn from it.
Candy Benn