If you are struggling financially but are unable to take on another job you may have some skills you could tap into that could change your future.
As we grow we learn many skills from our parents. We may not have thought much of them then but they could be the answer to our financial troubles.
Now, in this post, I will address how to start a home sewing business at your community level and then I will give you some tips on how to use the internet to promote and grow that business.
What I will not tell you, is how to gain local customers if you were to start a home sewing business. Rather, I will let my experience speak to you.
Note
This article was updated on March 1st 2021.
A little Background here
Now I am a child of two teachers. These weren't ordinary teachers. My Dad was the headmaster at the Primary School I attended while my mom was a specialist teacher.
Now when they weren't at school Daddy managed the family farm, worked as a Justice of the Peace, a Regional Councellor and held other public posts from time to time. Mom had a home sewing business and ran the house.
On top of that they had five children. Taking care of our bunch on their teacher's salary while running their businesses and doing other duties was no easy task.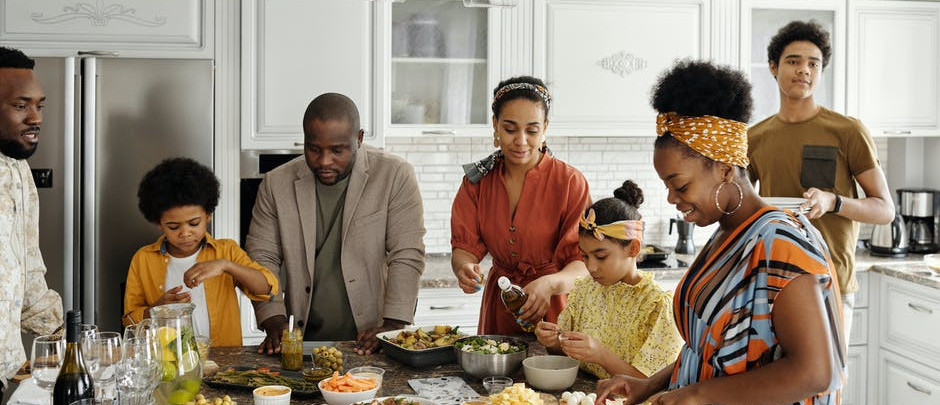 From these two extraordinary people, I gained many life skills.
Mom insisted that all her children must learn to sew. The boys were no exception. By the time I got to secondary school I was sewing my own clothes.
By the age of fourteen, I was a certified seamstress but to me, that was just a hobby.
Free Business Advertisement – Show Don't Tell
There came a time when I decided to start a home sewing business, so as to use that hubby to take care of my family. The drawback was that I am a bit of an introvert and hate the idea of approaching others to advertise my business. So, I decided to become my own free business advertisement.
Now on a normal day, jeans and a nice top make the perfect wear for me. Makeup and fluff wouldn't usually enter the picture, but now I was going to be my own best free business advertisement for my home sewing business. The first thing I decided was that whatever I wore to work would be my own creation and so it was.
My Target Audience – Potential Customers
There was a reason for that. As a teacher, I saw potential customers in my workmates, the parents of my students, and even my neighbors.
Understand that when I am in the mood, I don't only sew, I design. So what did I do?
I put all that skill/talent to work for me. I changed the way I dressed because now I was dressing to catch the eye of my potential customers. I was promoting my business.
I got a lot of, 'Wow, I love the outfit. Where did you get that?'
'Oh my, I love this.'… 'You actually made that? Yourself?'
'Do you have time?' … 'Can you make one for me?'
With that simple strategy, I generated more business than if I had taken out an advertisement. It was more business than I knew what to do with.
Opening Other Doors
One time one of my closest friends entered a pageant. Another friend and I decided to be her sponsors. This was a very big occasion in the area where I was living. Even the president was there. So I made her evening wear.
After that pageant, Evadne's outfit and the way she looked was a major topic of discussion. The question of where the outfit came from, naturally followed. I wasn't even trying to drum up business at the time but the orders were rolling in.
Now what I have laid out is a simple strategy that you could use to start and grow a successful home sewing business in your own community with ready customers.
Show don't tell! This strategy can work for anyone!
Design a Small Home Office
Thanks to my first commenter. Your comment has caused me to add this section on how to design a small home office.
Naturally, if you have a home sewing business you will need have a definite space to run your business and welcome your customers.
Where you put that office will be up to you but it's essential that you have it. I would suggest that if you have a family, you ensure that this is a space that they won't have to constantly walkthrough.
Your space needs to be clean, comfortable, and welcoming with a seat(s) for your customers. When you sit to design that home office, don't worry too much about the cost of doing it.


Start by making a list of all you will need, then look at each item and see if there is something that you already own that could be used for the desired purpose. In this way, you will save on your startup cost. In time you will upgrade.
Please Note
As an Amazon Associate, I earn from qualifying purchases.
Choosing a Sewing Machine for Your Sewing Business

One of the most important things you will need to do is choose the best tools for your business.
It is important not to compromise on this since your ability to work uninterrupted is important. Nothing kills a business faster than unreliability. This can be caused by unreliable equipment.
While  I have never used this particular model. Singer is my preferred brand for long term work.
I learned to sew on it too. My mother had three singer machines that were more than 30 years old.
She gave away two sometime in the last ten years. I still have the third and it still works well. So I will stand behind this brand.
I will say however that these machines have changed from being predominantly metal to more plastic. My sister has one of the new models. I find that they are not as durable as the older ones but hers has lasted about 15 years so I still say they are a great brand and they are affordable.
My other sister also owns a sewing machine. She has a Brother.
While it was cheaper to buy, unfortunately she has had to take it in for repairs due to worn parts twice in the last three years.
Yes worn parts is to be expected for all machinery however her machine is only three years old. The singers, in my experience is much more durable. As the singer is my brand of choice.
Tips For Choosing Your Sewing Furniture – Comfort and Ease of Use is Key
Having a comfortable place to work is important when you wish to have a home sewing business. This is because back and neck pain are typically associated with work as a seamstress. As such having a comfortable work space in the form of a desk and chair is key.
Your Desk
You will also need a desk. This will need to be sturdy since it will need to withstand the weight of your sewing machine and stand up to a bit of rough use.
It would be nice to also have storage space for scissors, threads, pins, tailor's chalk, and other the basics that form a part of the necessary sewing items for your business. These items need to be close by during the actual sewing process so having a desk with storage space is a must.
Buy a Comfortable Chair
Seamstresses and Taylors spend lots of time sitting while sewing. Obviously, if you need to spend a lot of time in a sitting position you will need to ensure that your chair is comfortable.
An adjustable chair may be best since you will want to ensure you are at the best height at all times.
Additionally have a padded chair but not too soft.
Buying the Right Cutting Table
If you wish to do an excellent job a cutting table is a must-have. This comes designed to help to give a much more professional cut than an ordinary table.
I prefer the design of this one because it has some built-in functionality that will help to cut styles that require a flair cut or cutting on the bias which can be difficult depending on the type of material being used.
Miscellaneous Items
Always try to stock up well on the little but quite important things such as threads, scissors, tailors' chalk, thimble and tape measure, fabric, and so forth. Have them in different colors where necessary. These items are low cost and quite essential to the day to day running of your business. If you need to leave to replenish your stock often this will in turn send up the cost of the final item.
Preparing Your Environment So Customers Would Want to Sit for a While
Now I would advise, buying very comfortable furniture because you will want your customers to sit and be willing to linger a while. Nothing would kill your business like a terrible environment. After all, you won't be the
only seamstress in town.
Be welcoming. Give them that home feeling or better yet, create the type of homey environment they wish they had. They will come willingly. You should however ensure the furniture is easy to clean.
Be relevant. You may have on hand your own designs as well as ideas for things that haven't yet been created. Always have something new and inspiring for them to look at.
Disclaimer
I am in no way affiliate with the Singer Brand or any brand of furniture/equipment recommended for your home office. These are suggestions based on my experience.
Value Your Customers – Customer Service is Important to Build a Successful Business
Customer Service is key in any successful business, do not overlook it.
Be patient, friendly, and above all efficient in serving your customers. Time is money. Value theirs as much as you value yours.
Set Realistic Deadlines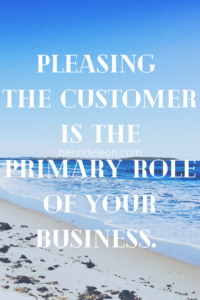 When you set a date for delivery, be prompt, even early. That being said always allow yourself sufficient time for the completion of any project. If you cannot reach a deadline be upfront about it. You may still land the job by explaining to the customer what you can actually do for them in the stipulated time. Always be ready with an alternative plan.
You may lose that sale but when building a brand having a reputation for reliability, honesty and efficiency is a plus. Added to this you stand a better chance of having a repeat customer by being honest than if you are late and as a result negatively impact your customer's business.
When Things Don't Go According To Plan
In the event that something goes wrong try to be upfront with your customer and offer compensation in some shape or form. Mistakes are a part of business, but owning up and making restitution actually works to help build your brand and bring repeat business from customers who are satisfied in spite of your mistakes. However, if the mistake is one you can fix without alerting the customer then by all means go ahead.
Sometimes fixing a mistake may call for you to have help from another source. This is not always what we may wish to do but meeting our customers needs must always be our primary concern.
Preferential Treatment
Try to remember your customers and their likes and dislikes. Offer deals to repeat customers where possible. This is also a good thing to do for customers who buy in bulk.
Remember that while wholesale may reduce your profit margin in the short term you a faster turnover in your stock will give you a greater profit margin in the long term.
Avoid selling the customer things that you know don't look good on them. Give truthful advice at all times.
If they still choose to buy that outfit and then have others make negative comments about it they are less likely to blame you. You are always the expert.
While your job is to get your customers to buy your creations do not overlook the value of your expert advice. Trust between you and your customers is extremely important.
Additionally do not overlook the fact that serving your customers a cool beverage can have a positive impact on your business.
Take the Home-Based Business on the Internet – Go from Ordinary to Extraordinary
Now to answer the question of how this translates into an online business it's simple.
The largest collection of businesses you will ever find is on the internet. There is a reason for this, the largest customer base is also on the internet.
There are literally billions of persons on the internet and that number is growing daily.
If you wish to make a serious impact and gain financial independence, you need to take the home-based business on the internet, you need to get your slice of that market. Reach beyond your community and sew for the world.
Start with what you have. You could sew a little bit at a time and sell on one of the many eCommerce websites or you could think big. Build your own brand. Take the designs you have tucked away, create your own inventory, and begin your internet adventure.
Related Article: Identify The Target Audience For Your Business
Point to Note:
If you use a link on this site to buy a product or service, I may earn a small commission. However, whether the link is used or not the price of that product or service will always remain the same. View full affiliate disclosure here.
If You Are Going To Try Go All The Way – How to Promote Your Sewing Business
Aim for a collection of a set number, say 100 pieces, your best work.
Firstly you will need a website.
Now if you are waiting for the details of how to go about getting your own business website up and running it's simple you could pay a web developer his well-deserved hair-raising fee or do it yourself.
Building a website yourself is easy. There are a few places online that will allow you to do so for free. What those places won't do for you however is make you visible. Being visible on the internet means that when someone searches google there is a good chance they will stumble on your website aka your online store.
Yes, there are loads of websites on the internet that don't show up in your search simply because they haven't been able to make themselves visible to search engines. Now to become visible takes time and work. You will need training.
You will need to learn about SEO optimization, writing using niche keywords, understand the needs of your customers, you'll need access to the many tools used by web developers and you will need to learn the revolutionary marketing strategies that drive the internet traffic. Best of all you will learn to become visible for free.
With the right training, this can be achieved within a few months.
Learn to create, host, and promote a website
One simple platform that has a step by step program that will teach you how to do this is Wealthy Affiliates.
I use Wealthy Affiliates and I will vouch for their service.
They will teach you how to build a website and to make yourself visible to customers. On their platform, they will also teach you marketing strategies that will prove invaluable to your business. Best of all the hosting is part of the package.
Related Article: 9 Practical Steps In Planning And Developing A Website
My Experience
I spent years online searching for opportunities to earn online. I found lots of scams and sites offering gigs that pay so low I consider them busy work because they keep you busy but really don't pay you what you are worth. As a result, it would be difficult to earn a living from them.
The training offered at Wealthy Affiliate is my number one recommendation for anyone looking into starting an online business.
It doesn't matter what type of business you are going into as long as it requires having an online presence I absolutely recommend it.
If you are worried about misinformation please understand that it is free to join. That way you will be able to evaluate it for yourself and make your own decision without spending even one dollar.
Before You Go
If you wish to read more about what this program has to offer check out My Wealthy Affiliate University Review where I talk about their package or go directly to the Wealthy Affiliates platform here to learn more. You can remain a free member of WA for life.
Do you have questions about this opportunity? Would you like to run your idea, for your home sewing business, by me? Inbox me at candybenn@benndeleon.com
Stay updated with new start-up online business ideas:
Follow me on Pinterest
Candy Benn.