There is no such thing as Accidental Success unless you are playing the lottery and even then you need a ticket. You put in the work and the payoff comes later. In this blog, we are going to look at the 9 practical steps every web developer should take in developing a website or blog.
Planning
Success begins with a plan.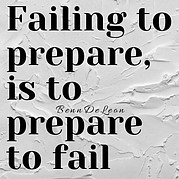 In business, it is always necessary to have a plan first. All successful business owners know this, unfortunately, when it comes to our websites we always seem to overlook this idea.
A website is a business like any other and planning is equally important here as well.
It would appear as though the planning process is often overlooked in creating a website, however.
1. Know Your Customer
Who are you preparing your website for? Is it students? What age group are you planning to target? Which is your target country or ethnicity?
What are their likes and dislikes? What are their needs and struggles?
2. Who Are Your Top Competitors
Know the top competitors in your niche.
The top five sites in your niche are your main competitors. Know who they are and what they offer then do better.
Why only the top five?
As a content creator, you will wish to rank on the first page of the search engines because ranking on the second page is as good as being invisible.
Additionally ranking among the top five is always best. This increases your chances of getting traffic to your website. This is because the top positions are usually taken up by persons who are paying for ad space.
You will notice the first two to three sites are marked ad.
Unfortunately, this means that you could potentially rank on page one but if you fall below the first five, still end up on page two. This is why the top five sites are your real competitors.
3. Set Goals For Your Site
Your goals include what you wish your website to do for you but more importantly what it will do for your site visitors.
The last is far more important because your visitors are the ones who will help you to achieve the first. Without traffic, your website may as well not exist.
Your goal for your site visitors is as simple to satisfy their needs to the best of your ability and have them coming back for more.
Naturally, your own goals for your site may be: 
To write valuable content
To rank on page one of the search engines
Get ever-increasing traffic for your website.
Be accepted into your favorite affiliate programs
Valuable content is content that is accurate, up to date, and covers all the bases.
Having valuable content is supremely important since it is this that your visitors come for. Without valuable content, your visitors are likely to leave as fast as they arrive.
Since this traffic to your site is what we all value it is imperative that the creation of valuable content must be your primary focus.
4. Your Business Vision
Have you ever stopped to visualize your website?
When I was studying at University we were taught to create a blueprint for our computer programs. The argument was that in the past many businesses preferred to use the ad hoc method.
This is what we did when we came to WA. We jumped in feet first and began to build. As our websites took shape we shifted things around and trimmed to get it to just where we want it to be. Later however as my knowledge grew and I could look back and assess what I had created I often wished I could start over.
I thought I could have done better if I was able to begin again. Such is the nature of learning.
We learn, we grow and we adjust.
It's funny even though I knew about preparing a blueprint when writing a computer program I never really thought about doing it for a website because I was not taught to plan a website.
However, as my sites and my knowledge grew I could see the value of having a blueprint.
Think of your website as a house. With a blueprint in place, you will be less likely to knock out walls later.
Have you in the process of building your website knocked out a few walls and rearranged things to accommodate/adjust your new knowledge?
These mistakes may have been unavoidable as you built your first site.
How about the second or third, however? Do you ever think that having a vision may help to make them better?
I certainly have.
This way I would have a better picture so as to avoid knocking out more walls along the way.
What Should A Blueprint Look Like?
After doing research and some introspection I found that the one I prefer should have two plans.
One shows all my needs.
The other shows what the actual site laid out should look like including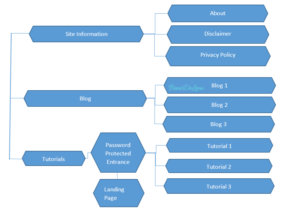 password-protected areas if needs be.
Make your plan as big as you wish even when you have no idea how to accomplish it.
It is simply about putting your vision on paper.
5. Research
Once the plan is in place you research the process of accomplishing what you wish. If you have already built your first site you may simply need to learn more about those areas that are new to you.
You may learn how to create a content page, password protect portions while allowing access to others, providing restricted access to some content, and so forth.
It all depends on your vision and your previous knowledge.
6. Have A Marketing Strategy
Decide how you will drive traffic to your site.
For this, you may use SEO, social media marketing, email marketing, or even YouTube Videos.
You will need to choose which social media channels you will use to engage your audience, establish a schedule to publish your articles both on your site as well as posting on social media.
Social Media Marketing is a great way to generate traffic for your new website while you wait for organic traffic to kick in.
Chose which service will be best for handling your email marketing campaigns. Be sure to read Email Marketing Service Review.
For a newbie with a budget I recommend AWeber but there are plenty of other programs out there that may suit your needs. Most Affiliate Marketers swear by email marketing as a way to generate return visitors to your site. This looks great to the search engines and it allows you to offer additional services to site visitors who may not have otherwise returned.
YouTube is another great way for you to drive traffic to your site. This allows you a different audience who may otherwise not know your website exists.
YouTube also allows you to grow a loyal fan base that will generate precious return traffic. This is extremely important to all content creators.
7. Work Out A Budget
Websites like any other business have a startup cost. This is usually a pretty small amount particularly if you plan to do all the work yourself.
Regardless of the amount you still need to plan for it. You will at least need to pay for a domain name, hosting and if you are using SEO, have a keyword research tool.
There are a few free tools available. They have limitations but are a great alternative when money is not readily available. Be sure to read Best Affordable SEO Keyword Research Tools.
8. Have A Call To Action
Call to action is extremely important for bloggers. The call to action is a way to get your users to engage with your content or product. Decide what it is that you want your users to do beforehand.
Once you know what this is ensure you encourage your visitors to do so in a clear concise manner.
9. Building Out Your Plan
Once your plan is in place you begin to build. Do not be overwhelmed by the plan. Take it in bite-size portions.
The final output may take as long as you wish, it is your business but you will build faster and have fewer detours when you have a visible plan in place.
10 Maintain Your Website
So you have your new website up and running. Your content has been created and you would like to relax.
Well, that is not how this works. As with any other business you will need to attend to your site on a regular basis. You will need to maintain your site and keep your content up to date.
This is extremely important since new websites are being created daily and search engines typically love fresh content.
You will also need to connect with your website visitors, answer their questions, and meet their needs since this is what your business does.
Conclusion
It is imperative that you plan your website before getting started. This ensures that you do not have to waste precious time redoing the layout of your site due to a desire to make changes or additions.
Following this well laid out complete plan will help you to set a great foundation for your business.
Before You Go
Be sure to drop me a comment below to let me know how this information has helped you. Additionally, if you have any questions please leave them below and I will get back to you within 24 hours.
Candy Benn