If like me you came to this online world looking for a way to start your own business without breaking the bank, then finding the best affordable keyword research tool is extremely important.
Keywords are vital to scaling SEO and ranking well in searches. When you learn to find and use keywords correctly you will be able to harness the power of the search engines. To learn more about how to find and use keywords correctly read How To Find Keywords For Websites And Rank On Page One.
The tools below will help you to keep the spending down. Some are completely free while others have a free trial or a daily free limit.
Choose the one that best fits your needs.
I prefer to use more than one since they each have their own strengths that make them stand out.
Point to Note:
If you use a link on this site to buy a product or service, I may earn a small commission. This helps me to maintain my website. However, whether the link is used or not the price of that product or service will always remain the same. View full affiliate disclosure here.
Jaaxy Keyword Research Tool
Jaxxy Keyword research tool is an easy to use tool that allows you to search keywords, give keyword suggestions and check how your site ranks for certain keywords.
What I love about Jaxxy that it is a paid tool with a free trial, so you are able to try it before buying. You do not need to have a credit card to use Jaaxy at all. You can simply sign up and your first 30 searches are free.
Jaxxy's Alphabet soup allows you to generate keywords according to the letters of the alphabet. In this way, you are able to go through hundreds of new keyword suggestions and see which one is the right fit for your post.
Jaaxy also allows you to create keyword lists to use on your post. This is not available with the paid version, however.
Once you have created your post and had it ranked in the search engines, Jaxxy allows you to check to see how your post is ranking for your chosen keywords.
At only $49 dollars per month, Jaxxy is an affordable tool. Additionally, Jaxxy has an affiliate program that makes it possible to earn from it.
To learn more about Jaxxy you can checkout my Jaaxy review here or go directly to Jaxxy to sign up for your free trial.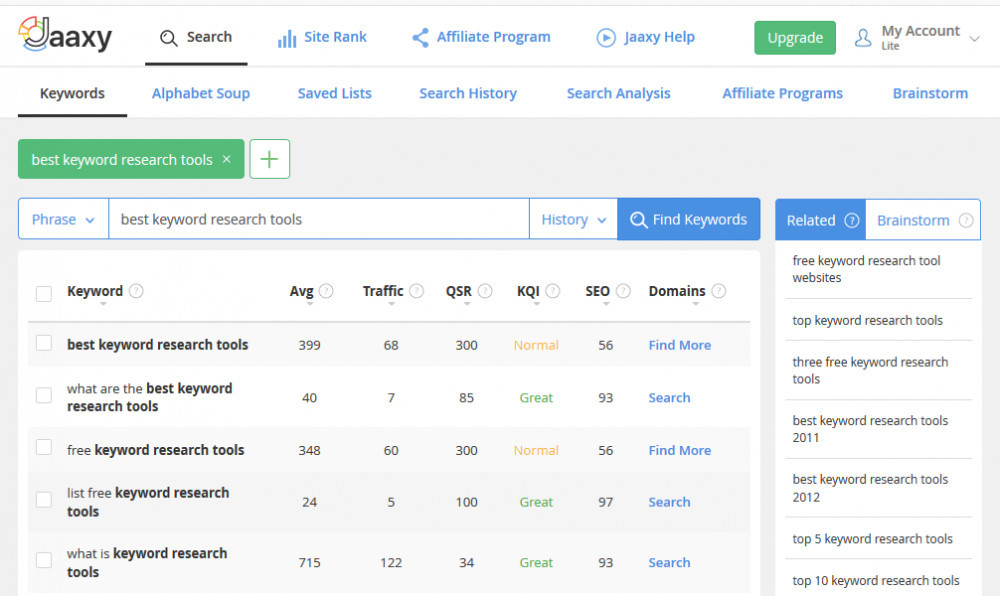 The above is a picture of the Jaxxy keyword research tool.
Ubbersuggest Keyword Research Tool
Ubbersuggest is a free tool that I use as a backup to Jaxxy. It allows you 10 free searches per day. It is a bit more complicated to use than Jaxxy and has some additional features.
One of the things I like about Ubbersuggest is that it allows you to type in your competitor's domain and analyze their site.
It allows you to check what keywords they are ranking for, their organic monthly traffic, their domain score, and the number of backlinks.
It also shows the top SEO pages on their site.
Ubbersuggest allows you to see the sites that are backlinking to a website and much, much more. You may enter your own domain to have an analysis done.
I use this as a backup to Jaxxy and enjoy the additional features.
What concerns me about this tool however are the reports that it is not accurate. Some have also reported problems when trying to cancel the paid version. Read more on Ubbersuggest on Trustpilot and TrustRadius.
I have not had any issues with it to date, but I continue to use the free version only.
I think it is a great tool that compares well against the leaders on the market. I cannot think of another free tool that offers as much.
Soovle Keyword Research Tool
Soovle is a great free keyword research tool that generates keywords from Google, Wikipedia, YouTube, Answers, Bing, Yahoo, Amazon.
With Soovle users are able to see hundreds of keywords that web users are searching for on these different platforms.
I enjoy using Soovle because of the fact that
It is free
The keyword list is extensive
It allows me to build keyword lists.
I typically use Soovle with Jaaxy, taking the keywords given there and typing them into Jaxxy to generate information about the number of persons searching those keywords on a monthly basis as well as the number of websites competing for those keywords.
Try Soovle. It's completely free.
SEMRush Keyword Research Tool

SEMRush Keyword Research Tool is a great all in one tool for SEO and marketing. I have found it quite easy to use and understand.
While the cost may be on the steep side for any new business, it offers some free tools that would be quite useful to any business.
Additionally unlike the other tools listed above the SEMRush tool offers many more great features in their package.
The downside however remains the many complaints about unacceptable user experience. Read more of my SEMRush review here.
Conclusion
There are many keyword research tools on the market today. They each have different features to meet your needs. So choose wisely.
Before You Go
If you have questions or comments about the best affordable keyword research tools be sure to leave a comment in the comment section below.
Candy Benn