If you are here because you are looking into the best keyword research tools for your business the SEMRush Keyword Research Tool deserves more than a second look.
Also, be sure to check out my articles on the most affordable keyword research tools.
What Is SEMRush
The SEMRush keyword research tool is an all-in-one SEO tool that is capable of adding great value to your online business.
It is one of the best all-in-one SEO tools on the internet today.
It allows a user to analyze their own site as well as a competitor's site, looking at keywords, backlinks, ranking, and much much more.
Its primary purpose is to help users
Some Important Features of SEMRush
SEMRush makes it possible for the user to get pertinent information about the marketing strategy of their competitor. It uses several different tools to do this.
Traffic Analysis
The traffic Analysis tool allows useful insight into where the competitor is getting traffic from, how much traffic they are able to generate as well as how their conversion rate.
Organic Research
Organic research allows a user to analyze the keywords that a website is ranking for.
You may analyze the entire domain or just one post. It's entirely up to the user.
Keyword Overview
Keyword overview is a tool that helps a content creator to analyze a keyword to learn how stiff the competition is and the possibility for ranking on page one for that keyword.
SEMRush Site Audit
The first time I used SEMRush was in an effort to conduct an audit of my website.
For this, I used the free version of this tool. I was extremely surprised at the ease of use and the wealth of information provided.
It took time to fix all the errors but at the end of it, the SEO score of my website was better than it had been before. Every page was optimized.
Features Of Site Audit
I received a basic overview of my site. This included a comparison of my site health to the top 10% of all sites on the internet.
I was able to see a list of all the issues found and the number of each. When I clicked on the link I saw the exact pages that had each issue as well. This of course made it easy to fix issues found on my site.
I was able to view a breakdown of the pages crawled and the HTTP code that would indicate whether the pages crawled had any errors or not'
Lastly, I loved the fact that there is a historical chart of the audits done on a site so the users would be able to see how much progress they have made in building their site health.
I definitely plan to continue to use this feature to improve the SEO for my website.
If you wish to know more about the other features available on SEMRush be sure to check it out.
SEMRush Price Plans
While SEMRush is one of the best keyword research tools I have encountered on the internet, the price tag does seem a bit steep.
Don't get me wrong for the features offered I believe the price isn't bad at all. It has loads of great features on hand and is easy to use.
If money is not an issue I would definitely recommend the paid packages.
If money is an issue, I suggest that it is still a great tool to use. Just stick with the free version until you can afford the upgrade. Or you can check out some more affordable options here.
SEMRush User Reviews – TrustRadius
I also checked out SEMRush on Trust Radius and this is what I found.
On TrustRadius SEMRush had a rating of 8.5 out of 10 stars.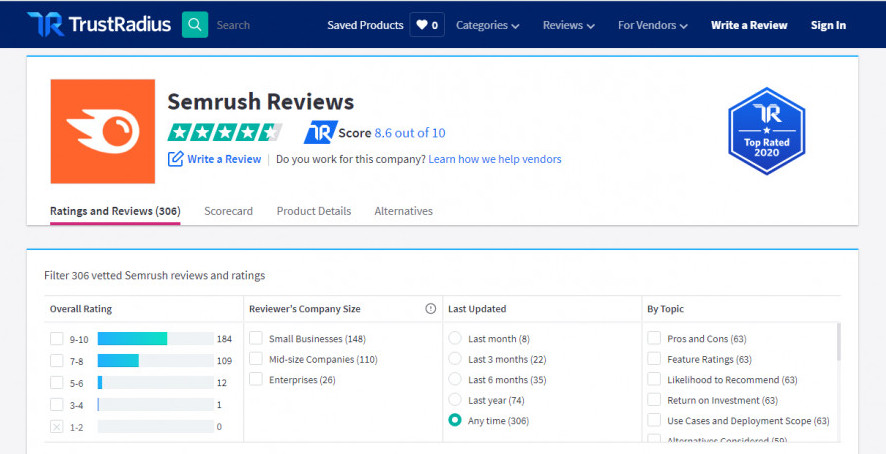 Positive
On trust radius SEMRush had a higher star rating, however, even those who were singing praises for this software had a few negative comments.
None the less everyone was willing to recommend the software in spite of the issues they would have encountered.
Negative
What I found interesting on TrustRadius is that even when SEMRush was given 1o stars there were mentions of frequent technical issues with the site often being down.
Additionally, there were several comments about the tool not being accurate in its keyword research, its report of backlinks was also inaccurate since all weren't shown, and much more.
SEMRush User Reviews – Trustpilot
On TrustPilot I found that SEMRush had a rating of 4.5 out of 5 stars, with many satisfied customers.
What I found interesting was the fact that the positive reviews came from users who were invited to give one and the negative reviews were from users who were not invited to give feedback.
Additionally, their accusations were not publicly denounced in the responses given.
Positive
Users had many great things to say.
Many users commented on the great number of tools available, the ease of use, the fact that the platform is constantly being updated comments about it being an industry leader.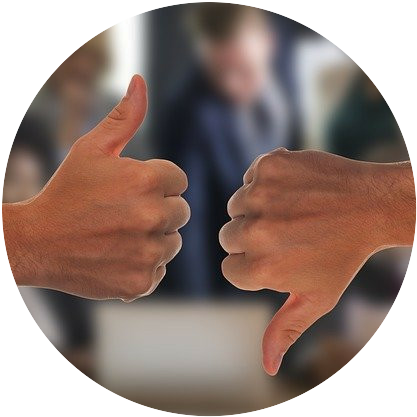 There were also mention of it being an amazing platform and a lifesaver.
Be sure to check out the Trustpilot Reviews.
Negative
What I found concerning is the feedback from users that claim that it was difficult to cancel the subscription when the free trial was over.
As you can expect since you are required to enter your card number during the period when you would have applied for the free trial if you are unable to cancel this means that your account will be charged at the end of your free trial.
However, according to the response given by SEMRush cancellation is easy. All the user needs to do is send them an email.
One user actually talked about the need to give up this tool for financial reasons. This of course is something I foresee happening with some persons since many persons who have a new business on the internet that is not yet earning enough may find their paid packages out of their reach.
Additionally, there were comments from one user about the platform being buggy and unreliable. This was not my own experience but time will tell.
I also found some mention of the pricing being misleading. And that in fact when you upgrade to receive some of the additional tools it really isn't included in the package you upgraded to but in fact, you would then be required to pay some additional cost to receive them when in fact these would have been the exact items you upgraded to receive in the first place.
There was also some mention of bad customer service.
For a package that is already expensive for the average newbie and I believe is one of the best available on the market I find these negative feedbacks very sad.
My Own Take
While I take user feedback very seriously I also have to take into consideration my own experience as well as the overwhelming number of positive feedback this software received.
According to the majority of users, as is shown in the pictures above, they were very satisfied with the experience.
I have also had a satisfying user experience and maintain that I love the detail this tool provides. At the moment I also use the Jaxxy keyword research tool and Google Keyword Planner.
To learn about Jaxxy read my review of the Jaxxy Keyword Research Tool.
Conclusion
SEMRush Keyword Research Tool is a great SEO tool. This applies to both the free version as well as the paid packages.
However, in light of the negative reviews, I would look into each package carefully before upgrading to any of the paid packages.
Whatever your budget SEMRush has a package to help meet your SEO needs. Try it for free.
Before You Go
Have you used SEMRush? Do you have questions or comments about this software? Be sure to leave them in the comment section below.
Candy Benn