For those who have not been involved in this business, there are many misconceptions about affiliate marketing. In this post, I will deal with 8 Affiliate Marketing Myths.
Table Of Contents
Myth 1: Affiliate Marketing Is A Difficult Business To Get Into
Myth 2: Affiliate Marketing Is Easy, Anyone Can Be Successful At It
Myth 3: Starting An Affiliate Marketing Business Is Expensive
Myth 4: Affiliate Marketers Needs To Have Technical Skills
Myth 5: Affiliate Marketers Need to Own A Website
Myth 6: Your Niche Should Be What Is Trending
Myth 7: Customers Prefer To Go Directly To The Site That Has The Item
Myth 8: Affiliate Marketing Will Make You Rich Over Night
1. Affiliate Marketing Is A Difficult Business to Get Into
---
Wrong. Affiliate Marketing is one of the easiest businesses to get into. To become involved in Affiliate Marketing all the prospective owner needs is to create his own website and add credible content to it.
An affiliate Marketing Business can be in any niche. It is best to choose an area that you are an expert in.
There are lots of sites online that would allow you to buy a domain name and host a website at a small cost.
Many of the tools required to prepare and run a successful affiliate marketing business are available free of cost on the internet.
The Limitations
Of course, you may find yourself unable to access the full features of some products without actually paying some amount of money and some free ones are only available for a certain period.
That however should not deter you. If you are working with a limited budget use what is available free of cost until such time as you are able to upgrade.
In terms of joining an affiliate program to promote a chosen product affiliate marketers do not need to pay. As long as you abide by their set criteria businesses would readily allow you to join.
Some are much easier than others and some have restrictions in terms of which countries are allowed in. But with thousands of affiliate programs out there, there is something for everybody.
Getting Into Affiliate Marketing Free of Cost
---
I have always wanted to own a web-based business.
When I stumbled on a website that indicated that there is a program that you could actually join free of cost, a program that would teach you how to start and successfully run an affiliate marketing business I thought I would like to give that a try.
The program only had the first 10 courses free but after coming across many scam sites in my effort to find a way to make money online I welcomed a program that would allow me to join and try the first 10 programs without spending a dime.
Better yet, no credit card was required.
This meant that I could join and try it, and if I didn't like the program I was free to leave.
I joined the program. Once I decided that it was the real deal and suited my needs, I upgraded to premium. I have been learning and building my business there ever since.
What If You Are Not Knowledgeable Of How To Be Successful At It
---
There are programs online that would teach you all you need to know about to become a successful Affiliate Marketer for a small fee. Of course, some programs are more successful than others and knowing the best one to join takes research.
You may of course join the program that I use here or read my review here to see what the program has to offer.
2. Affiliate Marketing Is Easy. Anyone Can Be Successful At It
While it is indeed true that affiliate marketing is easy it takes training and discipline to succeed at it. As a result, not everyone who gets into it will be successful.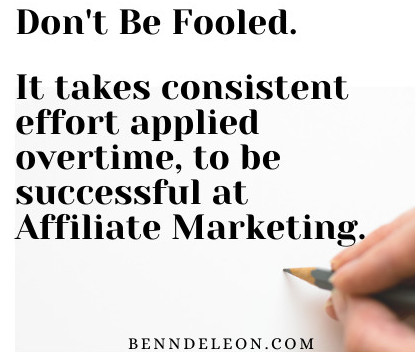 How to get ranked on the first page of search engines is one of the most important lessons every affiliate marketer needs to learn. This takes training in SEO.
Once you know how to do this a perspective affiliate marketer will need to write consistently using his knowledge of SEO in order to rank on page one. This takes discipline.
You may want to read How To Find Keywords For Your Website And Rank On Page One.
Many successful Affiliate Marketers also use Email and social media marketing in conjunction with SEO to build their affiliate marketing business.
Both of these take time and consistent effort in order to work.
Ranking On The First Page Of Search Engines
---
As I began my journey into the world of Affiliate Marketing I learned how to use keyword research to rank on the first page of searches.
I learned that it is easier to rank for low competition keywords. This is a great way to build out a new business. Trying to rank for keywords with high competition could actually mean that a website will not be able to appear on the first page.
Unfortunately appearing anywhere but the first page could relegate a website to being practically invisible.
Since building a successful online business requires traffic any affiliate marketer who uses SEO will wish to have his site appear on the first page and no other.
Keyword Research Tools Are A Must
In order to appear on the first page, I use several keyword research tools with Jaxxy being the main one. Be sure to read my Jaxxy Keyword Research Tool Review.
As an Affiliate Marketer, I write about tools and books that I use as well as my experiences in my online journey. When I started my training I made it my business to seek out those who were successful at it and read up on their journey and experiences, what worked for them and what didn't, and why.
As with any business, I knew coming in that not everyone will be successful. I chose to ignore all the posts from those who had failed. I didn't intend to fail so I wasn't interested in their journey.
I follow those who are successful because they had found the answers I was looking for. They knew how to build an online business successfully.
3. Starting An Affiliate Marketing Business Is Expensive
---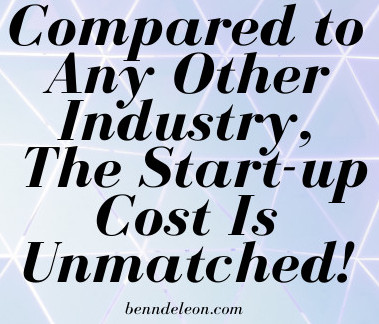 Wrong. The truth is Affiliate marketing is one of the most inexpensive businesses to start. Your real investment is in the form of time.
In terms of cost, you can actually build an affiliate marketing business for as little as $49 dollars per month, this includes training. If you already know all that you need to do to be successful you can do it for less.
The Price Of Becoming an Affiliate Marketer
---
I actually pay $49 dollars per month to build my business. This includes my training, hosting, 10 free domains, and more. See below to compare pricing for different programs.
You may also read My Wealth Affiliate University Review to learn more about what this program has to offer.
Building any business takes time and Affiliate Marketing is no exception.
I am a parent of two handsome boys and a teacher so in order to build my business, I start my day early. I am usually up by 04:00 so that I can complete my blog by 07:00 – 07:30. My goal is to write 1000 words daily.
I push myself to do this and I do not stop until I reach my target.
This is because my business requires me to blog consistently. My blogs need to be informative and factual. I try to provide all of this.
In a big way, I use my experiences in my writing but I also do research daily to ensure my information is up to date, relevant, and valuable.
4. Affiliate Marketers Needs To Have Technical Skills
---
Wrong. You do not need technical skills to be successful at affiliate marketing. All of what you need to know in order to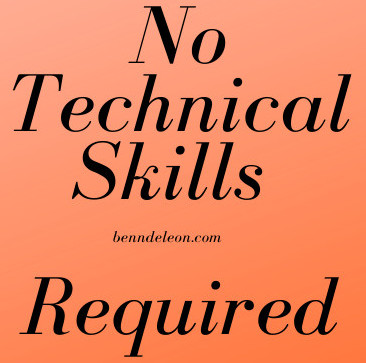 start an affiliate marketing business is available online free of cost.
What you really need is the interest level, and ability to do research so as to learn all that you need to know to make a success of this business.
Today building a website is pretty simple. Sites like WordPress and Wix has made it easy with their drag and drop tools. In fact, there is no longer a need to know HTML to build your own website.
Developing SEO, Email Marketing, and Social Media Marketing Skills is as technical as it gets. There is a lot of information available on the internet free of cost that would teach you what you need to know about these.
How I Built My Affiliate Marketing Business
---
As part of my training, I was taught to use WordPress themes to build my website. I used loads of free tools and only used paid ones when absolutely necessary.
I was encouraged to use SEO to build my business but do not depend solely on it. One of the things we were taught and what worked well for me, particularly in the beginning is using Social Media Marketing.
During the early stages, I found the various social media platforms to be a great way to find people interested in my content, and as a result, they proved valuable for generating traffic.
Until a site begins to rank in the search engines I would suggest to any new affiliate Marketer that the use of Social Media Marketing can help you to build out your business faster.
5. Affiliate Marketers Need To Own A Website
---
Wrong. The primary job of an affiliate marketer is to share their affiliate links with prospective customers.
While most affiliate marketers are content creators and therefore own websites there are other tools that can be used to share your affiliate links.
You do not need to own a website. You do however need to have an online presence.
Alternatives To Owning A Website
---
While I chose to use a website to promote my affiliate marketing business I also shared my affiliate links on Facebook. Pinterest and Twitter.
In this way, I am able to earn using those programs.
There are lots of Affiliate Marketers who also use YouTube to promote their content and post their affiliate links there.
6. Your Niche Should Be What Is Trending
---
One of the biggest mistakes new affiliate marketers make is writing about what is trending.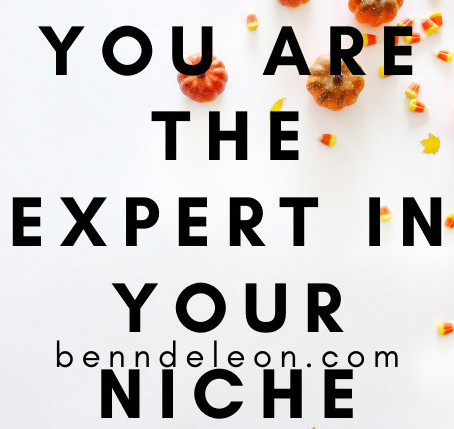 While what is trending may actually command traffic for the moment, you, the affiliate marketer should always provide information about things that you are an expert at.
In this way, you will be able to provide more reliable information and publish more frequently.
Additionally no matter the area of expertise, there will always be a site visitor looking to learn about that.
7. Customers Prefer To Go Directly To The Site That Has The Item
Wrong. Customers like to shop around.

In fact, they like to know about what they are buying as much as possible especially when it comes to tech products.
This is where you come in.
Customers visit other websites to gather technical information in order to make an informed decision when shopping.
You as the affiliate marketer is expected to provide as much valuable, valid information as possible to help them to make that choice.
Choosing Your Niche
---
What my training taught me is that there are literally thousands of niches, maybe more. All have affiliate programs to match. Since I would be creating content it would be better to choose a niche in an area I was an expert on.
For instance, the fact that I had been a teacher for more than 20 years made a teaching site a natural progression for me.
8. Affiliate Marketing Will Make You Rich Overnight
---
Wrong. While Affiliate Marketing can make you rich and there are lots of people making a great deal of money doing it. However, affiliate marketing takes effort, consistent publishing, and a great deal of time and is definitely not a get-rich-quick scheme.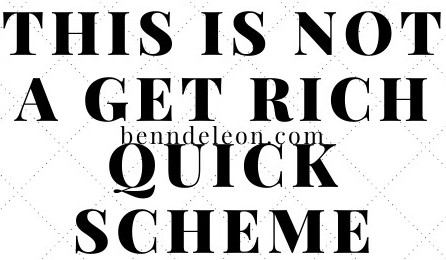 The riches won't come overnight. More than that not everyone will make a six-figure income doing it.
Many successful Affiliate Marketers would tell you that they didn't make money in the first six months. For some, it even took longer than that.
If you are not prepared to patiently publish valuable, well-researched, content consistently for the first year to build up your website traffic you probably won't succeed at it.
In Affiliate Marketing, content is king.
Making Money With Affiliate Marketing
---
When I started out in affiliate marketing I had all the right tools but I didn't make my first sale until I had been in the business for 4 months.
No, it was not a 6 figure income. Try two figures but I was comforted I was beginning to see some fruits.
When I hit the three-month mark I became slightly exhausted, wondering whether I was doing the right thing. What kept me going were the stories from successful Affiliate Marketers on the platform where I was studying to build my business.
These marketers kept sharing their stories and progress report. Some who were earning a monthly 6 figure income would have made it known that they had failed to earn even a dime in their first year.
Others had taken longer than that.
Additionally, they shared what they had done wrong and kept publishing their progress report, disclosing their earnings over time.
You Will Need To Be Persistent
What this did for me is it put things in perspective. I came to realize that if I wanted to be successful as an affiliate marketer I needed to be PERSISTENT.
I realized that when I read their stories there was one thing most of them had in common, they had made mistakes but they had gotten up and kept going. Their ability to get back up and keep going is what had made them the successful marketers they had become.
I thought then that if I wanted to be successful I would need to get back up if I got knocked down and keep going come what may.
Conclusion
Affiliate Marketing is a business like any other. It takes time, knows how and consistent effort applied over time to become successful at it.
As with any other business if you are serious about making a success at it you will need to put in the time and effort to learn from those who have done it before you.
There are many tools that affiliate marketers used to become successful online. You need to be aware of them and apply them regularly.
Before You Go
Have You Any Questions About Affiliate Marketing? Have you heard anything about this field and would like to know if it is a myth or fact? Would you like to know how to get into this field? Be sure to leave a comment in the section below.
Additionally, you may read Affiliate Marketing For Beginners.
Candy Benn