In today's economy is it seem like everyone is trying to find a side hustle and make some extra money. This is all too true about single parents in particular.
As a single parent I know the struggle to make it on a small income well.
Now your car may be the answer to earning a second income.
Table Of Content
Rent Your Car
Carpool To Assist Parents
How To Implement A Carpool To Assist Neighborhood Children
Carpool With Work Mates
Turn Your Car Into A Taxi
Conclusion
Before You Go
Disclaimer: This post may contain affiliate links. This mean that if you click on any of the links on these page and buy something I may earn a commission at no cost to you.
Ways To Earn With Your Car
Rent Your Car
Whenever strangers come to your area they like to have transportation available to them. You may consider renting your car periodically to supplement your income.
While there are risks involved in allowing someone else to drive your vehicle the available insurance would cover any damages. Additionally, your car would be available to you on the days that it is not in use.
Carpool To Assist Other Parents
Do you realize that you can do the things you do daily and make money from them? I certainly have.
When I first decided to buy a vehicle it was because I lived in an area where transportation was a problem. I lived very close to the school where I worked but my son needed to travel to get to school.
Even though I had arranged with a taxi to pick him up there were many days when the driver would not show up for various reasons. This did not only affect me but the other persons whose children were traveling with him as well.
Eventually even though it was not the best time to do it I bought a car and started taking my child to school. I then reached out to other persons who were using the same taxi I was to take their children to school. Before long, I had a car full of children who I'd take to school.
These students were going to the same school as my big son so I actually wasn't going out of my way at all.
Since I was a teacher and well-known in my area the parents felt very comfortable knowing that their children would be safe. I benefited because now I was receiving assistance for the money I was spending on gas on a daily basis.
How To Implement A Carpool For Neighborhood Children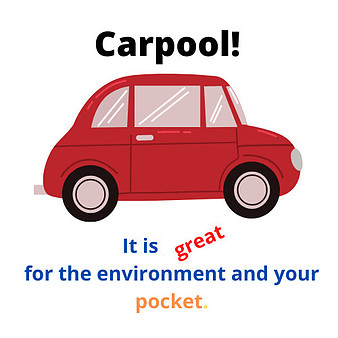 If you decide to do this I'd suggest reaching out to children whose parents may be having a hard time getting them to school. Some parents may be willing to do this if their children are having problems using the bus for different reasons.
Reach out to them and offer to drop the children off along with yours. You may be surprised to learn what a great deal of help this would prove to be for them.
This may also build a bond for your children within their school and neighborhood.
Car Pooling With Work Mates
While the earning from a carpool may not seem very obvious I promise that you it's there.
About two years ago, when I moved to a new region I was traveling in my own car for about 40 minutes. I had workmates that lived in the same area I did who were also driving their own cars or taking the bus.
Many of those who took the bus were struggling to get to work on time so I started doing something simple, I'd pickup the persons traveling by bus.
Before long a few began to leave their bus fare to assist with gas and would ask me to pick them up whenever I see them on the road. This proved to be a great way to save money because now I was spending less out-of-pocket on gas and had a bit more for other things.
Turn Your Car Into A Taxi
If you have read my About Page you already know that I turned my car into a taxi about two years ago.
When my sons and I finally moved to the coastal region I was able to find a house very close to their school. As such I didn't need the car anymore. So I made the decision to change it over into a taxi.
Getting The Legal Work Out Of The Way
Since owning a taxi makes you an actual business owner you will need to find out what are the legal requirements in your country.
I registered my car as a taxi , change the insurance and bought the proper licenses. Once this was done I put the word out that I was looking for a driver.
This didn't take long and within a few months I had a business that was earning me a passive income.
There are some risks involved in owning a taxi however since you run the risk of being involved in an accident. For this reason I prefer to have full coverage insurance and the driver sign on as a renter instead of an employee.
Conclusion
If you wish to increase your earnings but really don't have time to work job number two then using your car to provide a second income may prove to be the answer you are looking for.
It is a great passive income stream and is great for single parents.
Before You Go
Do you know a great passive income stream that would help single parents to increase their income, work flexible hours and from the comfort of their home? Be sure to leave a comment in the comment section below.
If you have any questions or comments I would also love to hear from you. I will be sure to get back to you within 24 hours.
Candy Benn